Why, oh why couldn't I have had a perp named "Shitavious...."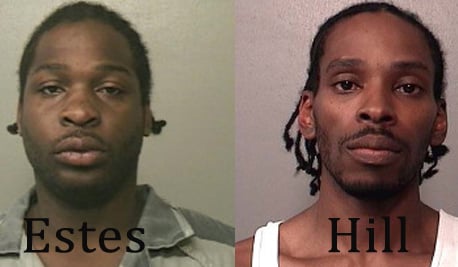 15-year-old charged with three counts of first-degree murder in Rutherford death By HUEY FREEMAN - H&R Staff Writer | Posted: Thursday, September 8, 2011 1:15 pm | DECATUR -
Shitavious J. Cook, a 15-year-old male, was arraigned Thursday morning on three counts of first-degree murder, for his alleged involvement in the shooting death of 24-year-old Billy J. Rutherford.
Cook, who is facing a possible life sentence if convicted on the murder charge, was also charged with two counts of attempted first-degree murder and one count of aggravated battery with a firearm, for allegedly shooting another man as he was riding on his motorcycle.
According to Illinois law, defendants who are 15 years old and older are automatically tried as adults when charged with first-degree murder.
Cook, a 5-foot-6-inch tall, 140-pound teen, sat with a disconsolate expression in the jury box, in the custody of juvenile probation officers, as Associate Judge James Coryell read the charges to him. When the judge asked Cook if he planned to hire his own lawyer or wanted to have a public defender appointed for him, he stood up and said he wanted the judge to appoint a lawyer.
After the arraignment, the court released sworn police statements that tell the stories of Cook's alleged involvement in the two shootings.
During an interview at police headquarters, Cook told police that his motive for shooting at the man on the motorcycle, who he mistakenly thought was Rutherford, was that Rutherford had made death threats against him.
At about 8:11 p.m. on Monday, Aug. 29, Decatur police officers were sent to the alley behind 1317 N. Woodford St. on reports of gunshots fired and an injured man on the ground. An officer found "Rutherford's deceased body lying in alley" with "at least one defect in the face/head." Rutherford was pronounced dead at the scene at 9:20 p.m.
Cook was arrested at about 7:23 p.m. the following day.
During an interview at police headquarters, "Cook admitted to seeing Rutherford walk into the alley" just north of 1317 N. Woodford, according to a sworn statement by an officer. Cook told police he then heard multiple gunshots and saw Rutherford lying in the alley.
Cook said he was then handed a shotgun by Felton T. Estes, 28. Cook said he then fired the shotgun one time into Rutherford's body.
During a search of Cook's home, officers recovered a double-barreled shotgun, which contained one spent casing and one live round.
The attempted murder and aggravated battery charges stem from an incident that occurred five days before that homicide.
At about 11:54 p.m. on Wednesday, Aug. 24, a 31-year-old man was shot in the right leg while riding his motorcycle east on Grand Avenue, at Martin Luther King Drive. The victim told police that he heard that a 15-year-old male who was nicknamed "Tay" was the shooter.
When police interviewed Cook, whose nickname is "Tay," following his arrest on Aug. 30, he admitted that he shot a shotgun at a man who was riding a black-and-yellow motorcycle at Grand and Martin Luther King. The victim suffered injuries to his right leg and side.
Cook said the intended target of that shooting was Rutherford, "who had made threats against his life," according to a police statement.
Cook, who has a residential burglary case pending in juvenile court, is scheduled to appear for his preliminary hearing in Macon County Circuit Court on Sept. 21. He is being held in custody in a nearby juvenile detention facility.
Two other men who were arrested for the murder of Rutherford, Estes and Demeco D. Hill, 35, are expected to be charged in circuit court this afternoon. Hill is being held without bond in the Macon County Jail; Estes is being held on a $5.1 million bond.
http://herald-review.com/news/local/article_c410ff82-da46-11e0-baed-001cc4c002e0.html